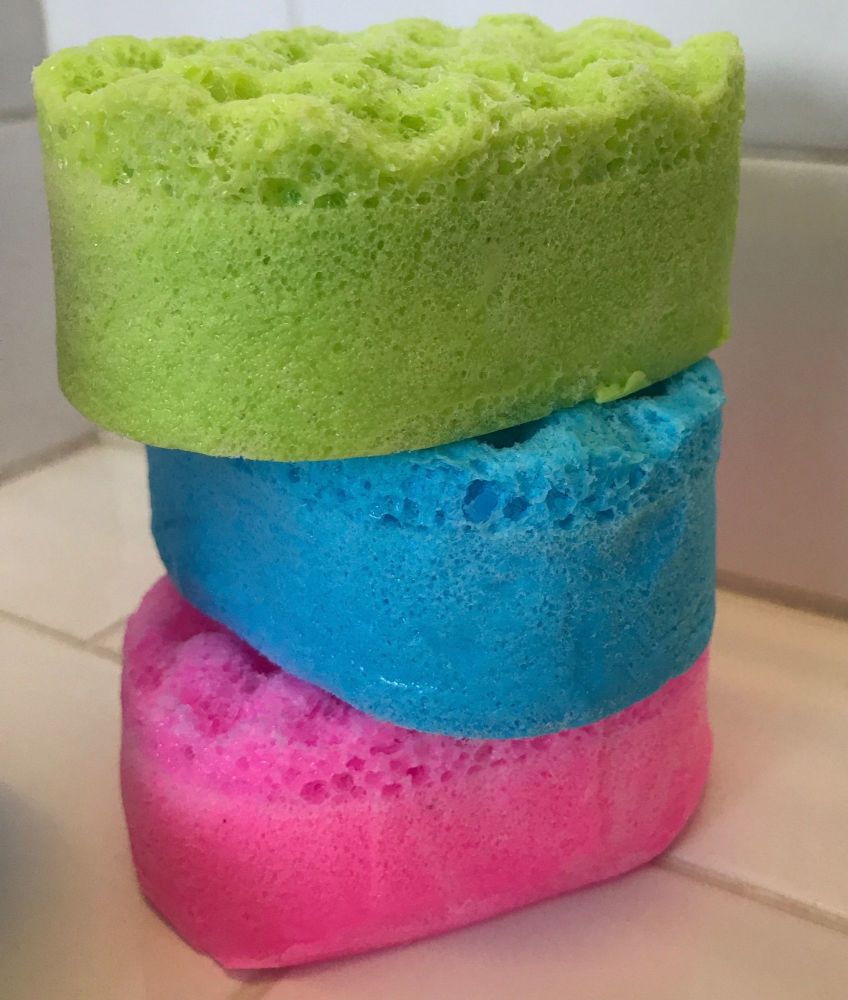 50 x Individual SMALL exfoiliating Soap Sponges - random fragrances

6 x Soap Sponges

£83.00
By popular demand we have launched a new size in our exfoiliating soap sponge. These are hand sized, a perfect fit for your palm. Easy to use and great for travel or your gym bag. You can see them in the photographs next to one of our regular larger size sponges for comparison (you will only receive the small size sponge when ordering this product).
This is a mxed pack of 50 in random fragrances, perfect for trying different scents.
Simply wet the sponge with warm water and use to smooth and clean your skin, avoid the eye area. When you have finished simply leave to dry.
Ingredients for Product Variations
American Soda Soap Sponge
Ingredients: Glycerin, Aqua, Sodium Stearate, Propylene Glycol, Sorbitol Sodium Laurate, Sodium Laureth Sulfate, Parfum, CI14700, Sodium Chloride, Disodium Lauryl Sulfosuccinate, Stearic Acid, Lauric Acid, Pentasodium Pentetate, Tetrasodium Etidronate, Titanium Dioxide, Allergens CITRAL, LIMONENE, Contains Synthetic Soap Sponge
Aniseed Soap Sponge
Ingredients: Glycerin, Aqua, Sodium Stearate, Propylene Glycol, Sorbitol Sodium Laurate, Sodium Laureth Sulfate, Illicium Verum Seed Oil, CI14700, Sodium Chloride, Disodium Lauryl Sulfosuccinate, Stearic Acid, Lauric Acid, Pentasodium Pentetate, Tetrasodium Etidronate, Titanium Dioxide, Allergens anethole, estragole mythil chavicol, methyl vinyl cyclohexene, linalool, Contains Synthetic Soap Sponge
Apple Soap Sponge
Ingredients: Glycerin, Aqua, Sodium Stearate, Propylene Glycol, Sorbitol Sodium Laurate, Sodium Laureth Sulfate, Parfum, CI42090/CI19140, Sodium Chloride, Disodium Lauryl Sulfosuccinate, Stearic Acid, Lauric Acid, Pentasodium Pentetate, Tetrasodium Etidronate, Titanium Dioxide, Allergens AMYL CINNAMAL, BUTYLPHENYL METHYLPROPIONAL, Contains Synthetic Soap Sponge
Athena Soap Sponge
Ingredients: Glycerin, Aqua, Sodium Stearate, Propylene Glycol, Sorbitol Sodium Laurate, Sodium Laureth Sulfate, Parfum, CI42090/CI45100, Sodium Chloride, Disodium Lauryl Sulfosuccinate, Stearic Acid, Lauric Acid, Pentasodium Pentetate, Tetrasodium Etidronate, Titanium Dioxide, Allergens CINNAMYL ALCOHOL, CITRONELLOL, COUMARIN, LIMONENE, LINALOOL Contains Synthetic Soap Sponge,
Baby Powder Soap Sponge
Ingredients: Glycerin, Aqua, Sodium Stearate, Propylene Glycol, Sorbitol Sodium Laurate, Sodium Laureth Sulfate, Parfum, CI19140, Sodium Chloride, Disodium Lauryl Sulfosuccinate, Stearic Acid, Lauric Acid, Pentasodium Pentetate, Tetrasodium Etidronate, Titanium Dioxide, Allergens CITRONELLOL, COUMARIN, LINALOOL Contains Synthetic Soap Sponge,
Bathtime Soap Sponge
Ingredients: Glycerin, Aqua, Sodium Stearate, Propylene Glycol, Sorbitol Sodium Laurate, Sodium Laureth Sulfate, parfum, CI19140/CI42090, Sodium Chloride, Disodium Lauryl Sulfosuccinate, Stearic Acid, Lauric Acid, Pentasodium Pentetate, Tetrasodium Etidronate, Titanium Dioxide, Allergens CITRAL, LINALOOL, Synthetic Soap Sponge,
Beauty Belle Soap Sponge
Ingredients: Glycerin, Aqua, Sodium Stearate, Propylene Glycol, Sorbitol Sodium Laurate, Sodium Laureth Sulfate, Parfum, CI45100, Sodium Chloride, Disodium Lauryl Sulfosuccinate, Stearic Acid, Lauric Acid, Pentasodium Pentetate, Tetrasodium Etidronate, Titanium Dioxide, Allergens ALPHA-ISOMETHYL IONONE, CITRONELLOL, LIMONENE Contains Synthetic Soap Sponge,
Berry Blast Soap Sponge
Ingredients: Glycerin, Aqua, Sodium Stearate, Propylene Glycol, Sorbitol Sodium Laurate, Sodium Laureth Sulfate, Parfum, Ci42090, CI45100, Sodium Chloride, Disodium Lauryl Sulfosuccinate, Stearic Acid, Lauric Acid, Pentasodium Pentetate, Tetrasodium Etidronate, Titanium Dioxide, Allergens ALPHA-ISOMETHYL IONONE, BENZYL BENZOATE, CITRONELLOL, LIMONENE, LINALOOL Contains Synthetic Soap Sponge
Berry Sorbet Soap Sponge
Ingredients: Glycerin, Aqua, Sodium Stearate, Propylene Glycol, Sorbitol Sodium Laurate, Sodium Laureth Sulfate, Parfum, CI45100, CI42090, Sodium Chloride, Disodium Lauryl Sulfosuccinate, Stearic Acid, Lauric Acid, Pentasodium Pentetate, Tetrasodium Etidronate, Titanium Dioxide, Allergens BENZYL ALCOHOL Contains Synthetic Soap Sponge
Billionaire Soap Sponge
Ingredients: Glycerin, Aqua, Sodium Stearate, Propylene Glycol, Sorbitol Sodium Laurate, Sodium Laureth Sulfate, Parfum, CI50420, CI19140, Sodium Chloride, Disodium Lauryl Sulfosuccinate, Stearic Acid, Lauric Acid, Pentasodium Pentetate, Tetrasodium Etidronate, Titanium Dioxide, Allergens D-LIMONENE, LINALOOL Contains Synthetic Soap Sponge,
Billionairess Soap Sponge
Ingredients: Glycerin, Aqua, Sodium Stearate, Propylene Glycol, Sorbitol Sodium Laurate, Sodium Laureth Sulfate, Parfum, CI45100, Sodium Chloride, Disodium Lauryl Sulfosuccinate, Stearic Acid, Lauric Acid, Pentasodium Pentetate, Tetrasodium Etidronate, Titanium Dioxide, Allergens CITRAL, CITRONELLOL, LIMONENE, LINALOOL Contains Synthetic Soap Sponge
Bubblegum Soap Sponge
Ingredients: Glycerin, Aqua, Sodium Stearate, Propylene Glycol, Sorbitol Sodium Laurate, Sodium Laureth Sulfate, Parfum, CI42090, Sodium Chloride, Disodium Lauryl Sulfosuccinate, Stearic Acid, Lauric Acid, Pentasodium Pentetate, Tetrasodium Etidronate, Titanium Dioxide, Allergens Limonene Contains Synthetic Soap Sponge
Charm Soap Sponge
Ingredients: Glycerin, Aqua, Sodium Stearate, Propylene Glycol, Sorbitol Sodium Laurate, Sodium Laureth Sulfate, Parfum, CI45100, CI42090, Sodium Chloride, Disodium Lauryl Sulfosuccinate, Stearic Acid, Lauric Acid, Pentasodium Pentetate, Tetrasodium Etidronate, Titanium Dioxide, Allergens ALPHA-ISOMETHYL IONONE, COUMARIN, HYDROXYCITRONELLAL, LIMONENE, LINALOOL Contains Synthetic Soap Sponge
Cherry Soap Sponge
Ingredients: Glycerin, Aqua, Sodium Stearate, Propylene Glycol, Sorbitol Sodium Laurate, Sodium Laureth Sulfate, Parfum, CI14700, Sodium Chloride, Disodium Lauryl Sulfosuccinate, Stearic Acid, Lauric Acid, Pentasodium Pentetate, Tetrasodium Etidronate, Titanium Dioxide, Allergens Alpha iso methyl ionone, Benzyl Alcohol, Benzyl salicylate, Citronellol, hexyl cinnamic Alde Hyde, Linalool, P-tert-butyl-alpha-methylhydrocinnamic aldehyde Contains Synthetic Soap Sponge
Cherub Soap Sponge
Ingredients: Glycerin, Aqua, Sodium Stearate, Propylene Glycol, Sorbitol Sodium Laurate, Sodium Laureth Sulfate, Parfum, CI42090, Sodium Chloride, Disodium Lauryl Sulfosuccinate, Stearic Acid, Lauric Acid, Pentasodium Pentetate, Tetrasodium Etidronate, Titanium Dioxide, Allergens BUTYLPHENYL METHYLPROPIONAL, CITRONELLOL, COUMARIN, LIMONENE, LINALOOL Contains Synthetic Soap Sponge
Cinnamon Soap Sponge
Ingredients: Glycerin, Aqua, Sodium Stearate, Propylene Glycol, Sorbitol Sodium Laurate, Sodium Laureth Sulfate, Parfum, CI45100, CI19140, Sodium Chloride, Disodium Lauryl Sulfosuccinate, Stearic Acid, Lauric Acid, Pentasodium Pentetate, Tetrasodium Etidronate, Titanium Dioxide, Allergens CINNAMAL, EUGENOL Contains Synthetic Soap Sponge
Citronella Soap Sponge
Ingredients: Glycerin, Aqua, Sodium Stearate, Propylene Glycol, Sorbitol Sodium Laurate, Sodium Laureth Sulfate, Cymbopogon nardus (Citronella Essential Oil), CI19140, Sodium Chloride, Disodium Lauryl Sulfosuccinate, Stearic Acid, Lauric Acid, Pentasodium Pentetate, Tetrasodium Etidronate, Titanium Dioxide, Allergens LIMONENE, LINALOOL, GERANIOL, CITRAL, CITRONELLOL, EUGENOL Contains Synthetic Soap Sponge,
Coconut Soap Sponge
Ingredients: Glycerin, Aqua, Sodium Stearate, Propylene Glycol, Sorbitol, Sodium Laurate, Sodium Laureth Sulfate, Parfum, CI45100, Sodium Chloride, Disodium Lauryl
Sulfosuccinate, Stearic Acid, Lauric Acid, Pentasodium Pentetate, Tetrasodium Etidronate, Titanium Dioxide, Allergens ALPHA-ISOMETHYL IONONE, Contains Synthetic Soap Sponge
Cola Soap Sponge
Ingredients: Glycerin, Aqua, Sodium Stearate, Propylene Glycol, Sorbitol Sodium Laurate, Sodium Laureth Sulfate, Parfum, CI14700, Sodium Chloride, Disodium Lauryl Sulfosuccinate, Stearic Acid, Lauric Acid, Pentasodium Pentetate, Tetrasodium Etidronate, Titanium Dioxide, Allergens ALPHA-ISOMETHYL IONONE, CINNAMAL, EUGENOL, LIMONENE, LINALOOL, Contains Synthetic Soap Sponge
Conscience Soap Sponge
Ingredients: Glycerin, Aqua, Sodium Stearate, Propylene Glycol, Sorbitol Sodium Laurate, Sodium Laureth Sulfate, Parfum, CI19140, Sodium Chloride, Disodium Lauryl Sulfosuccinate, Stearic Acid, Lauric Acid, Pentasodium Pentetate, Tetrasodium Etidronate, Titanium Dioxide, Allergens ALPHA-ISOMETHYL IONONE, BUTYLPHENYL METHYLPROPIONAL, CITRONELLOL, HEXYL CINNAMAL, HYDROXYCITRONELLAL, LINALOOL Contains Synthetic Soap Sponge,
Dash Soap Sponge
Ingredients: Glycerin, Aqua, Sodium Stearate, Propylene Glycol, Sorbitol Sodium Laurate, Sodium Laureth Sulfate, Parfum, CI45100, Sodium Chloride, Disodium Lauryl Sulfosuccinate, Stearic Acid, Lauric Acid, Pentasodium Pentetate, Tetrasodium Etidronate, Titanium Dioxide, Allergens ALPHA-ISOMETHYL IONONE, BUTYLPHENYL METHYLPROPIONAL, LINALOOL Contains Synthetic Soap Sponge
Dewberry Soap Sponge
Ingredients: Glycerin, Aqua, Sodium Stearate, Propylene Glycol, Sorbitol Sodium Laurate, Sodium Laureth Sulfate, Parfum, CI42090, CI45100, Sodium Chloride, Disodium Lauryl Sulfosuccinate, Stearic Acid, Lauric Acid, Pentasodium Pentetate, Tetrasodium Etidronate, Titanium Dioxide, Allergens Amyl Cinnamal, Benzyl Salicylate, Citronellol, D-limonene, Geraniol, Hexyl Cinnamal, Linalool, Contains Synthetic Soap Sponge
Diva Soap Sponge
Ingredients: Glycerin, Aqua, Sodium Stearate, Propylene Glycol, Sorbitol, Sodium Laurate, Sodium Laureth Sulfate, Parfum, CI42090, CI45100, Sodium Chloride, Disodium Lauryl Sulfosuccinate, Stearic Acid, Lauric Acid, Pentasodium Pentetate, Tetrasodium Etidronate, Titanium Dioxide, Allergens BENZYL SALICYLATE, LIMONENE, LINALOOL Contains Synthetic Soap Sponge,
Elegance Soap Sponge
Ingredients: Glycerin, Aqua, Sodium Stearate, Propylene Glycol, Sorbitol Sodium Laurate, Sodium Laureth Sulfate, Parfum, CI42090, CI45100, Sodium Chloride, Disodium Lauryl Sulfosuccinate, Stearic Acid, Lauric Acid, Pentasodium Pentetate, Tetrasodium Etidronate, Titanium Dioxide, Allergens ALPHA-ISOMETHYL IONONE, BENZYL SALICYLATE, CINNAMYL ALCOHOL, CITRONELLOL, COUMARIN, EUGENOL. GERANIOL, HEXYL CINNAMAL, HYDROXYCITRONELLAL, LIMONENE, LINALOOL Contains Synthetic Soap Sponge
Eucalyptus Essential Oil Soap Sponge
Ingredients: Glycerin, Aqua, Sodium Stearate, Propylene Glycol, Sorbitol Sodium Laurate, Sodium Laureth Sulfate, Eucalyptus globulus leaf oil,(Eucalyptus Essential Oil),CI42090, CI19140, Sodium Chloride, Disodium Lauryl Sulfosuccinate, Stearic Acid, Lauric Acid, Pentasodium Pentetate, Tetrasodium Etidronate, Titanium Dioxide, Allergens LIMONENE, LINALOOL Contains Synthetic Soap Sponge
Everlasting Soap Sponge
Ingredients: Glycerin, Aqua, Sodium Stearate, Propylene Glycol, Sorbitol Sodium Laurate, Sodium Laureth Sulfate, Parfum, CI14700, Sodium Chloride, Disodium Lauryl Sulfosuccinate, Stearic Acid, Lauric Acid, Pentasodium Pentetate, Tetrasodium Etidronate, Titanium Dioxide, Allergens BUTYLPHENYL METHYLPROPIONAL, LIMONENE, LINALOOL, Contains Synthetic Soap Sponge
Fierce Soap Sponge
Ingredients: Glycerin, Aqua, Sodium Stearate, Propylene Glycol, Sorbitol Sodium Laurate, Sodium Laureth Sulfate, Parfum, CI42090, Sodium Chloride, Disodium Lauryl Sulfosuccinate, Stearic Acid, Lauric Acid, Pentasodium Pentetate, Tetrasodium Etidronate, Titanium Dioxide, Allergens LIMONENE, LINALOOL Contains Synthetic Soap Sponge,
Fire Soap Sponge
Ingredients: Glycerin, Aqua, Sodium Stearate, Propylene Glycol, Sorbitol Sodium Laurate, Sodium Laureth Sulfate, Parfum, CI14700,, Sodium Chloride, Disodium Lauryl Sulfosuccinate, Stearic Acid, Lauric Acid, Pentasodium Pentetate, Tetrasodium Etidronate, Titanium Dioxide, Allergens BENZYL BENZOATE, COUMARIN, LIMONENE, LINALOOL Contains Synthetic Soap Sponge,
Glorious Soap Sponge
Ingredients: Glycerin, Aqua, Sodium Stearate, Propylene Glycol, Sorbitol Sodium Laurate, Sodium Laureth Sulfate, Parfum, CI45100, Sodium Chloride, Disodium Lauryl Sulfosuccinate, Stearic Acid, Lauric Acid, Pentasodium Pentetate, Tetrasodium Etidronate, Titanium Dioxide, Allergens ALPHA-ISOMETHYL IONONE, BENZYL SALICYLATE, CINNAMYL ALCOHOL, GERANIOL, LIMONENE, LINALOOL Contains Synthetic Soap Sponge
Goddess Soap Sponge
Ingredients: Glycerin, Aqua, Sodium Stearate, Propylene Glycol, Sorbitol Sodium Laurate, Sodium Laureth Sulfate, Parfum, CI45100, Sodium Chloride, Disodium Lauryl Sulfosuccinate, Stearic Acid, Lauric Acid, Pentasodium Pentetate, Tetrasodium Etidronate, Titanium Dioxide, Allergens HEXYL CINNAMAL, LIMONENE, LINALOOL Contains Synthetic Soap Sponge
Grapefruit Soap Sponge
Ingredients: Glycerin, Aqua, Sodium Stearate, Propylene Glycol, Sorbitol Sodium Laurate, Sodium Laureth Sulfate, Citrus paradisi peel oil (Grapefruit essential Oil), CI45100, CI19140, CI14700, Sodium Chloride, Disodium Lauryl Sulfosuccinate, Stearic Acid, Lauric Acid, Pentasodium Pentetate, Tetrasodium Etidronate, Titanium Dioxide, Allergens CITRAL, LIMONENE, LINALOOL Contains Synthetic Soap Sponge
Ice Queen Soap Sponge
Ingredients: Glycerin, Aqua, Sodium Stearate, Propylene Glycol, Sorbitol Sodium Laurate, Sodium Laureth Sulfate, Parfum, CI45100, Sodium Chloride, Disodium Lauryl Sulfosuccinate, Stearic Acid, Lauric Acid, Pentasodium Pentetate, Tetrasodium Etidronate, Titanium Dioxide, Allergens ALPHA-ISOMETHYL IONONE Contains Synthetic Soap Sponge
Infinity Soap Sponge
Ingredients: Glycerin, Aqua, Sodium Stearate, Propylene Glycol, Sorbitol Sodium Laurate, Sodium Laureth Sulfate, Parfum, CI45100, CI19140, Sodium Chloride, Disodium Lauryl Sulfosuccinate, Stearic Acid, Lauric Acid, Pentasodium Pentetate, Tetrasodium Etidronate, Titanium Dioxide, Allergens BENZYL SALICYLATE, BUTYLPHENYL METHYLPROPIONAL, CITRONELLOL, EUGENOL, LINALOOL Contains Synthetic Soap Sponge
Invincible Soap Sponge
Ingredients: Glycerin, Aqua, Sodium Stearate, Propylene Glycol, Sorbitol Sodium Laurate, Sodium Laureth Sulfate, Parfum, CI42090, Sodium Chloride, Disodium Lauryl Sulfosuccinate, Stearic Acid, Lauric Acid, Pentasodium Pentetate, Tetrasodium Etidronate, Titanium Dioxide, Allergens ALPHA-ISOMETHYL IONONE, BENZYL ALCOHOL, BENZYL SALICYLATE, BUTYLPHENYL METHYLPROPIONAL, CITRONELLOL, COUMARIN, LIMONENE, LINALOOL Contains Synthetic Soap Sponge
Jelly Bean Soap Sponge
Ingredients: Glycerin, Aqua, Sodium Stearate, Propylene Glycol, Sorbitol Sodium Laurate, Sodium Laureth Sulfate, Parfum, CI42090, CI45100, Sodium Chloride, Disodium Lauryl Sulfosuccinate, Stearic Acid, Lauric Acid, Pentasodium Pentetate, Tetrasodium Etidronate, Titanium Dioxide, Allergens ANISE ALCOHOL, BENZYL ALCOHOL, CITRAL, LIMONENE Contains Synthetic Soap Sponge,
Ramsbottom Soap Co. Unit 4 Bolholt Industrial Estate, BL8 1PL
Not to be swallowed/avoid contact with eyes
Use within 12 months of opening
Lavender Essential Oil Soap SpongeIngredients: Glycerin, Aqua, Sodium Stearate, Propylene Glycol, Sorbitol Sodium Laurate, Sodium Laureth Sulfate, Lavandula Angustifolia (Lavender Essential Oil), CI42090, CI45100, Sodium Chloride, Disodium Lauryl Sulfosuccinate, Stearic Acid, Lauric Acid, Pentasodium Pentetate, Tetrasodium Etidronate, Titanium Dioxide, Allergens LIMONENE, LINALOOL, GERANIOL Contains Synthetic Soap Sponge,
Lemon Soap Sponge
Ingredients: Glycerin, Aqua, Sodium Stearate, Propylene Glycol, Sorbitol Sodium Laurate, Sodium Laureth Sulfate, Parfum, CI19140, Sodium Chloride, Disodium Lauryl Sulfosuccinate, Stearic Acid, Lauric Acid, Pentasodium Pentetate, Tetrasodium Etidronate, Titanium Dioxide, Allergens AMYL CINNAMAL, CITRAL, LIMONENE, LINALOOL Contains Synthetic Soap Sponge
Lemongrass Essential Oil Soap Sponge
Ingredients: Glycerin, Aqua, Sodium Stearate, Propylene Glycol, Sorbitol Sodium Laurate, Sodium Laureth Sulfate, Cymbopogon Flexuosus Oil, CI19140, Sodium Chloride, Disodium Lauryl Sulfosuccinate, Stearic Acid, Lauric Acid, Pentasodium Pentetate, Tetrasodium Etidronate, Titanium Dioxide, Allergens CITAL, LIMONENE, GERANIOL Contains Synthetic Soap Sponge
Lime Soap Sponge
Ingredients: Glycerin, Aqua, Sodium Stearate, Propylene Glycol, Sorbitol Sodium Laurate, Sodium Laureth Sulfate, Parfum, CI19140, CI42090, Sodium Chloride, Disodium Lauryl Sulfosuccinate, Stearic Acid, Lauric Acid, Pentasodium Pentetate, Tetrasodium Etidronate, Titanium Dioxide, Allergens CITRAL, LIMONENE Contains Synthetic Soap Sponge
Love Soap Sponge
Ingredients: Glycerin, Aqua, Sodium Stearate, Propylene Glycol, Sorbitol Sodium Laurate, Sodium Laureth Sulfate, Parfum, CI14700, Sodium Chloride, Disodium Lauryl Sulfosuccinate, Stearic Acid, Lauric Acid, Pentasodium Pentetate, Tetrasodium Etidronate, Titanium Dioxide, Allergens BENZYL SALICYLATE, COUMARIN, LINALOOL Contains Synthetic Soap Sponge,
Lucky Soap Sponge
Ingredients: Glycerin, Aqua, Sodium Stearate, Propylene Glycol, Sorbitol Sodium Laurate, Sodium Laureth Sulfate, Parfum, CI42090, CI19140, Sodium Chloride, Disodium Lauryl Sulfosuccinate, Stearic Acid, Lauric Acid, Pentasodium Pentetate, Tetrasodium Etidronate, Titanium Dioxide, Allergens BENZYL BENZOATE, BENZYL SALICYLATE, BUTYLPHENYL METHYLPROPIONAL, CITRONELLOL, HEXYL CINNAMAL, LIMONENE, LINALOOL Contains Synthetic Soap Sponge,
Madam Soap Sponge
Ingredients: Glycerin, Aqua, Sodium Stearate, Propylene Glycol, Sorbitol Sodium Laurate, Sodium Laureth Sulfate, Parfum, CI45100, CI19140, Sodium Chloride, Disodium Lauryl Sulfosuccinate, Stearic Acid, Lauric Acid, Pentasodium Pentetate, Tetrasodium Etidronate, Titanium Dioxide, Allergens BENZYL SALICYLATE, BUTYLPHENYL METHYLPROPIONAL, CITRONELLOL, LIMONENE, HEXYL CINNAMAL, LINALOOL Contains Synthetic Soap Sponge,
Marshmallow Soap Sponge
Ingredients: Glycerin, Aqua, Sodium Stearate, Propylene Glycol, Sorbitol Sodium Laurate, Sodium Laureth Sulfate, Parfum, CI45100, Sodium Chloride, Disodium Lauryl Sulfosuccinate, Stearic Acid, Lauric Acid, Pentasodium Pentetate, Tetrasodium Etidronate, Titanium Dioxide, Contains Synthetic Soap Sponge,
Ramsbottom Soap Co. Unit 4 Bolholt Industrial Estate, BL8 1PL
Not to be swallowed/avoid contact with eyes
Use within 12 months of opening
Mango Soap Sponge
Ingredients: Glycerin, Aqua, Sodium Stearate, Propylene Glycol, Sorbitol Sodium Laurate, Sodium Laureth Sulfate, Parfum, CI45100, CI19140, Sodium Chloride, Disodium Lauryl Sulfosuccinate, Stearic Acid, Lauric Acid, Pentasodium Pentetate, Tetrasodium Etidronate, Titanium Dioxide, Allergens CITRONELLOL, GERANIOL Contains Synthetic Soap Sponge
Mediterranean Soap Sponge
Ingredients: Glycerin, Aqua, Sodium Stearate, Propylene Glycol, Sorbitol Sodium Laurate, Sodium Laureth Sulfate, Parfum, CI42090, CI19140, Sodium Chloride, Disodium Lauryl Sulfosuccinate, Stearic Acid, Lauric Acid, Pentasodium Pentetate, Tetrasodium Etidronate, Titanium Dioxide, Allergens ALPHA-ISOMETHYL IONONE, BUTYLPHENYL METHYLPROPIONAL, CITRAL, Contains Synthetic Soap Sponge
Midnight Orchid Soap Sponge
Ingredients: Glycerin, Aqua, Sodium Stearate, Propylene Glycol, Sorbitol Sodium Laurate, Sodium Laureth Sulfate, Parfum, Ci50420, Ci19140, CI14700, Sodium Chloride, Disodium Lauryl Sulfosuccinate, Stearic Acid, Lauric Acid, Pentasodium Pentetate, Tetrasodium Etidronate, Titanium Dioxide, Allergens LIMONENE, LINALOOL Contains Synthetic Soap Sponge
Millionaire Soap Sponge
Ingredients: Glycerin, Aqua, Sodium Stearate, Propylene Glycol, Sorbitol Sodium Laurate, Sodium Laureth Sulfate, Parfum, CI19140*, Sodium Chloride, Disodium Lauryl Sulfosuccinate, Stearic Acid, Lauric Acid, Pentasodium Pentetate, Tetrasodium Etidronate, Titanium Dioxide, Allergens ALPHA-ISOMETHYL IONONE, BENZYL SALICYLATE, BUTYLPHENYL METHYLPROPIONAL, HEXYL CINNAMAL, HYDROXYCITRONELLAL, LIMONENE, LINALOOL Contains Synthetic Soap Sponge
Mr Millions Soap Sponge
Ingredients: Glycerin, Aqua, Sodium Stearate, Propylene Glycol, Sorbitol Sodium Laurate, Sodium Laureth Sulfate, Parfum, CI42090, Sodium Chloride, Disodium Lauryl Sulfosuccinate, Stearic Acid, Lauric Acid, Pentasodium Pentetate, Tetrasodium Etidronate, Titanium Dioxide, Allergens ALPHA-ISOMETHYL IONONE, BUTYLPHENYL METHYLPROPIONAL, COUMARIN, HEXYL CINNAMAL, LIMONENE, LINALOOL Contains Synthetic Soap Sponge,
Noir Soap Sponge
Ingredients: Glycerin, Aqua, Sodium Stearate, Propylene Glycol, Sorbitol Sodium Laurate, Sodium Laureth Sulfate, Parfum, CI14700, CI50420, CI19140, Sodium Chloride, Disodium Lauryl Sulfosuccinate, Stearic Acid, Lauric Acid, Pentasodium Pentetate, Tetrasodium Etidronate, Titanium Dioxide, Contains Synthetic Soap Sponge,
Opulence Soap Sponge
Ingredients: Glycerin, Aqua, Sodium Stearate, Propylene Glycol, Sorbitol Sodium Laurate, Sodium Laureth Sulfate, Parfum, CI19140, CI42090, Sodium Chloride, Disodium Lauryl Sulfosuccinate, Stearic Acid, Lauric Acid, Pentasodium Pentetate, Tetrasodium Etidronate, Titanium Dioxide, Allergens ALPHA-ISOMETHYL IONONE, BENZYL SALICYLATE, GERANIOL, LIMONENE, LINALOOL, Contains Synthetic Soap Sponge,
Ramsbottom Soap Co. Unit 4 Bolholt Industrial Estate, BL8 1PL
Not to be swallowed/avoid contact with eyes
Use within 12 months of opening
Parma Violet Soap Sponge
Ingredients: Glycerin, Aqua, Sodium Stearate, Propylene Glycol, Sorbitol Sodium Laurate, Sodium Laureth Sulfate, Parfum, CI42090, CI45100, Sodium Chloride, Disodium Lauryl Sulfosuccinate, Stearic Acid, Lauric Acid, Pentasodium Pentetate, Tetrasodium Etidronate, Titanium Dioxide, Allergens alpha-isomethyl ionone, citronellol, linalool, methyl 2-octynoate Contains Synthetic Soap Sponge,
Pear Drop Soap Sponge
Ingredients: Glycerin, Aqua, Sodium Stearate, Propylene Glycol, Sorbitol Sodium Laurate, Sodium Laureth Sulfate, Parfum, CI19140, Sodium Chloride, Disodium Lauryl Sulfosuccinate, Stearic Acid, Lauric Acid, Pentasodium Pentetate, Tetrasodium Etidronate, Titanium Dioxide, Allergens LIMONENE, Contains Synthetic Soap Sponge,
Peppermint Soap Sponge
Ingredients: Glycerin, Aqua, Sodium Stearate, Propylene Glycol, Sorbitol, Sodium Laurate, Sodium Laureth Sulfate, Parfum, CI42090, Sodium Chloride, Disodium Lauryl Sulfosuccinate, Stearic Acid, Lauric Acid, Pentasodium Pentetate, Tetrasodium Etidronate, Titanium Dioxide, Contains Synthetic Soap Sponge,
Petal Soap Sponge
Ingredients: Glycerin, Aqua, Sodium Stearate, Propylene Glycol, Sorbitol Sodium Laurate, Sodium Laureth Sulfate, Parfum, Ci19140, Sodium Chloride, Disodium Lauryl Sulfosuccinate, Stearic Acid, Lauric Acid, Pentasodium Pentetate, Tetrasodium Etidronate, Titanium Dioxide, Allergens ALPHA-ISOMETHYL IONONE, BUTYLPHENYL METHYLPROPIONAL, CITRONELLOL, HEXYL CINNAMAL, LINALOOL Contains Synthetic Soap Sponge,
Pineapple Soap Sponge
Ingredients: Glycerin, Aqua, Sodium Stearate, Propylene Glycol, Sorbitol Sodium Laurate, Sodium Laureth Sulfate, Parfum, CI19140, Sodium Chloride, Disodium Lauryl Sulfosuccinate, Stearic Acid, Lauric Acid, Pentasodium Pentetate, Tetrasodium Etidronate, Titanium Dioxide, Contains Synthetic Soap Sponge
Princess Soap Sponge
Ingredients: Glycerin, Aqua, Sodium Stearate, Propylene Glycol, Sorbitol Sodium Laurate, Sodium Laureth Sulfate, Parfum, CI45100, Sodium Chloride, Disodium Lauryl Sulfosuccinate, Stearic Acid, Lauric Acid, Pentasodium Pentetate, Tetrasodium Etidronate, Titanium Dioxide, Allergens BUTYLPHENYL METHYLPROPIONAL, LIMONENE, LINALOOL Contains Synthetic Soap Sponge
Queen Soap Sponge
Ingredients: Glycerin, Aqua, Sodium Stearate, Propylene Glycol, Sorbitol Sodium Laurate, Sodium Laureth Sulfate, Parfum, CI42090, CI45100, Sodium Chloride, Disodium Lauryl Sulfosuccinate, Stearic Acid, Lauric Acid, Pentasodium Pentetate, Tetrasodium Etidronate, Titanium Dioxide, Allergens BENZYL SALICYLATE, HYDROXYCITRONELLAL, LIMONENE Contains Synthetic Soap Sponge,
Raspberry Soap Sponge
Ingredients: Glycerin, Aqua, Sodium Stearate, Propylene Glycol, Sorbitol Sodium Laurate, Sodium Laureth Sulfate, Parfum, CI45100, Sodium Chloride, Disodium Lauryl Sulfosuccinate, Stearic Acid, Lauric Acid, Pentasodium Pentetate, Tetrasodium Etidronate, Titanium Dioxide, Contains Synthetic Soap Sponge
Revenge Soap Sponge
Ingredients: Glycerin, Aqua, Sodium Stearate, Propylene Glycol, Sorbitol Sodium Laurate, Sodium Laureth Sulfate, Parfum, CI14700, CI45100, Sodium Chloride, Disodium Lauryl Sulfosuccinate, Stearic Acid, Lauric Acid, Pentasodium Pentetate, Tetrasodium Etidronate, Titanium Dioxide, Allergens CITRAL, GERANIOL, LIMONENE, LINALOOL, Contains Synthetic Soap Sponge,
Rhubarb and Custard Soap Sponge
Ingredients: Glycerin, Aqua, Sodium Stearate, Propylene Glycol, Sorbitol Sodium Laurate, Sodium Laureth Sulfate, Parfum, CI19140, Sodium Chloride, Disodium Lauryl Sulfosuccinate, Stearic Acid, Lauric Acid, Pentasodium Pentetate, Tetrasodium Etidronate, Titanium Dioxide, Allergens CITRAL, GERANIOL Contains Synthetic Soap Sponge
Seakay Soap Sponge
Ingredients: Glycerin, Aqua, Sodium Stearate, Propylene Glycol, Sorbitol Sodium Laurate, Sodium Laureth Sulfate, Parfum, CI42090, Sodium Chloride, Disodium Lauryl Sulfosuccinate, Stearic Acid, Lauric Acid, Pentasodium Pentetate, Tetrasodium Etidronate, Titanium Dioxide, Allergens ALPHA-ISOMETHYL IONONE, COUMARIN, LINALOOL, Contains Synthetic Soap Sponge
Sky Soap Sponge
Ingredients: Glycerin, Aqua, Sodium Stearate, Propylene Glycol, Sorbitol Sodium Laurate, Sodium Laureth Sulfate, Parfum, CI42090, Sodium Chloride, Disodium Lauryl Sulfosuccinate, Stearic Acid, Lauric Acid, Pentasodium Pentetate, Tetrasodium Etidronate, Titanium Dioxide, Allergens BUTYLPHENYL METHYLPROPIONAL, CITRONELLOL, LIMONENE, LINALOOL Contains Synthetic Soap Sponge
Space Girl Soap Sponge
Ingredients: Glycerin, Aqua, Sodium Stearate, Propylene Glycol, Sorbitol Sodium Laurate, Sodium Laureth Sulfate, Parfum, CI45100, CI42090, Sodium Chloride, Disodium Lauryl Sulfosuccinate, Stearic Acid, Lauric Acid, Pentasodium Pentetate, Tetrasodium Etidronate, Titanium Dioxide, Allergens ALPHA-ISOMETHYL IONONE, BENZYL SALICYLATE, BUTYLPHENYL METHYLPROPIONAL, COUMARIN, GERANIOL, Contains Synthetic Soap Sponge,
Sparkle Soap Sponge
Ingredients: Glycerin, Aqua, Sodium Stearate, Propylene Glycol, Sorbitol Sodium Laurate, Sodium Laureth Sulfate, Parfum, Ci45100, Sodium Chloride, Disodium Lauryl Sulfosuccinate, Stearic Acid, Lauric Acid, Pentasodium Pentetate, Tetrasodium Etidronate, Titanium Dioxide, Allergens ALPHA-ISOMETHYL IONONE, CITRONELLOL, GERANIOL, HEXYL CINNAMAL, LIMONENE, LINALOOL Contains Synthetic Soap Sponge
Spirit Soap Sponge
Ingredients: Glycerin, Aqua, Sodium Stearate, Propylene Glycol, Sorbitol Sodium Laurate, Sodium Laureth Sulfate, parfum, CI42090, CI45100, Sodium Chloride, Disodium Lauryl Sulfosuccinate, Stearic Acid, Lauric Acid, Pentasodium Pentetate, Tetrasodium Etidronate, Titanium Dioxide, Allergens GERANIOL, Contains Synthetic Soap Sponge,
Strawberry Soap Sponge
Ingredients: Glycerin, Aqua, Sodium Stearate, Propylene Glycol, Sorbitol Sodium Laurate, Sodium Laureth Sulfate, Parfum, CI45100, Sodium Chloride, Disodium Lauryl Sulfosuccinate, Stearic Acid, Lauric Acid, Pentasodium Pentetate, Tetrasodium Etidronate, Titanium Dioxide, Contains Synthetic Soap Sponge
Sweet Orange Soap Sponge
Ingredients: Glycerin, Aqua, Sodium Stearate, Propylene Glycol, Sorbitol Sodium Laurate, Sodium Laureth Sulfate, Citrus Aurantium Dulcis Peel Oil (Sweet Orange Essential Oil), CI45100, CI19140, Sodium Chloride, Disodium Lauryl Sulfosuccinate, Stearic Acid, Lauric Acid, Pentasodium Pentetate, Tetrasodium Etidronate, Titanium Dioxide, Allergens LIMONENE, LINALOOL, CITRAL Contains Synthetic Soap Sponge
Sweetie Soap Sponge
Ingredients: Glycerin, Aqua, Sodium Stearate, Propylene Glycol, Sorbitol Sodium Laurate, Sodium Laureth Sulfate, Parfum, CI42090, CI19140, Sodium Chloride, Disodium Lauryl Sulfosuccinate, Stearic Acid, Lauric Acid, Pentasodium Pentetate, Tetrasodium Etidronate, Titanium Dioxide, Allergens Alpha Iso Methylionone, Benzyl salicylate, hydroxycitronellal, limonene, linalool, benzyl alchohol, citronellol, Contains Synthetic Soap Sponge,
Tea Tree Essential Soap Sponge
Ingredients: Glycerin, Aqua, Sodium Stearate, Propylene Glycol, Sorbitol Sodium Laurate, Sodium Laureth Sulfate, Melaleuca Alternifolia Leaf Oil (Tea Tree Oil), CI19140, CI42090, Sodium Chloride, Disodium Lauryl Sulfosuccinate, Stearic Acid, Lauric Acid, Pentasodium Pentetate, Tetrasodium Etidronate, Titanium Dioxide, Allergens LIMONENE, LINALOOL Contains Synthetic Soap Sponge
Tooti Fruiti Soap Sponge
Ingredients: Glycerin, Aqua, Sodium Stearate, Propylene Glycol, Sorbitol Sodium Laurate, Sodium Laureth Sulfate, Parfum, CI45100, Sodium Chloride, Disodium Lauryl Sulfosuccinate, Stearic Acid, Lauric Acid, Pentasodium Pentetate, Tetrasodium Etidronate, Titanium Dioxide, Allergens CITRONELLOL, GERANIOL Contains Synthetic Soap Sponge,
Twilight Soap Sponge
Ingredients: Glycerin, Aqua, Sodium Stearate, Propylene Glycol, Sorbitol Sodium Laurate, Sodium Laureth Sulfate, Parfum, CI45100, CI42090, Sodium Chloride, Disodium Lauryl Sulfosuccinate, Stearic Acid, Lauric Acid, Pentasodium Pentetate, Tetrasodium Etidronate, Titanium Dioxide, Allergens BENZYL SALICYLATE, HEXYL CINNAMAL, HYDROXYCITRONELLAL, LIMONENE, LINALOOL Contains Synthetic Soap Sponge,
Vanilla Soap Sponge
Ingredients: Glycerin, Aqua, Sodium Stearate, Propylene Glycol, Sorbitol Sodium Laurate, Sodium Laureth Sulfate, Parfum, CI19140, Sodium Chloride, Disodium Lauryl Sulfosuccinate, Stearic Acid, Lauric Acid, Pentasodium Pentetate, Tetrasodium Etidronate, Titanium Dioxide, Allergens COUMARIN, Contains Synthetic Soap Sponge
Watermelon Soap Sponge
Ingredients: Glycerin, Aqua, Sodium Stearate, Propylene Glycol, Sorbitol Sodium Laurate, Sodium Laureth Sulfate, Parfum, CI45100, Sodium Chloride, Disodium Lauryl Sulfosuccinate, Stearic Acid, Lauric Acid, Pentasodium Pentetate, Tetrasodium Etidronate, Titanium Dioxide, Allergens LINALOOL Contains Synthetic Soap Sponge
White Feather Soap Sponge
Ingredients: Glycerin, Aqua, Sodium Stearate, Propylene Glycol, Sorbitol Sodium Laurate, Sodium Laureth Sulfate, Parfum, Sodium Chloride, Disodium Lauryl Sulfosuccinate, Stearic Acid, Lauric Acid, Pentasodium Pentetate, Tetrasodium Etidronate, Titanium Dioxide, Allergens: ALPHA-ISOMETHYL IONONE, AMYL CINNAMAL, BUTYLPHENYL METHYLPROPIONAL, CITRONELLOL, COUMARIN, EUGENOL, HEXYL CINNAMAL, LINALOOL, Contains Synthetic Soap Sponge
Winter Warmer Soap Sponge
Ingredients: Glycerin, Aqua, Sodium Stearate, Propylene Glycol, Sorbitol Sodium Laurate, Sodium Laureth Sulfate, Parfum, CI45100, CI19140, Sodium Chloride, Disodium Lauryl Sulfosuccinate, Stearic Acid, Lauric Acid, Pentasodium Pentetate, Tetrasodium Etidronate, Titanium Dioxide, Allergens CINNAMAL, COUMARIN, EUGENOL, LIMONENE Contains Synthetic Soap Sponge